Welcome! We are glad you found us.
Our new customers say "We are glad we found you!"
Don't let our small size fool you. As you can see we've utilized every inch of space to bring you groceries, produce, supplements, body care, essential oils, incense and many more of the products you love.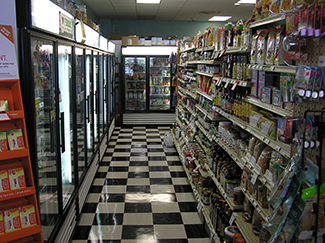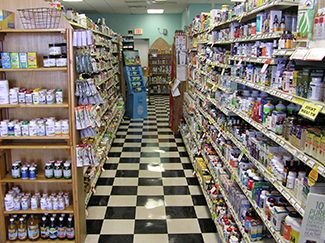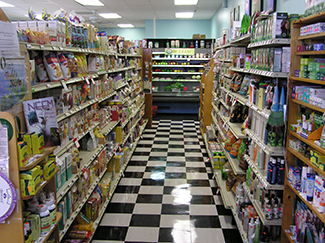 When you feel good you're happy and we want you to always feel your best with products that support your healthy lifestyle.
You'll be impressed with our passion for your healthy body, mind and spirit. Our staff is fully trained to provide the assistance you require to make the right decisions when purchasing the products that best suit your needs (please read their bios on the About Us page).
Our combined education spans more than 50+ years and our experience is second to none in the region. We don't just recommend products, we use them ourselves. What better way to know the results you can expect?
We proudly carry the highest quality products and most are displayed in the store. If you don't find what you are looking for we are happy to order them for you. So please, stop by today and see how much you can find in our small space and you too will be amazed at how we always seem to have exactly what you need.
The store is conveniently located just east of Hwy. 19 on Cortez Blvd. (Hwy. 50) at 9264 Cortez Blvd., Weeki Wachee, FL 34613.
Come in and see us, you'll be glad you did.
CBD Oil Testimonials
"Product - Sunshine Global 400mg CBD with Cavinol Excellent results, instant benefits including restfulness,
slightly elevated feelings of calm and euphoria. I love it! I hope CBD will become popular and the price reduced.
Great product. Great quality. Thank you."

Rachel R.
Spring Hill
"Product - Sunshine Global 400mg & 700mg with Cavinol From the first dose
of CBD oil I experienced great relief from my anxiety attacks.
Will keep on it for sure."

Marilyn
Brooksville
"Product - Sunshine Global 400mg CBD with Cavinol
I am off of all medications for Fibromyalgia and PTSD."

Toni Wheeler
Weeki Wachee
"My husband is a smoker and developed a mouth ulcer. A doctor gave him an
antiviral – it did little to NO good. After 2 weeks of CBD the ulcer was almost
completely gone and the pain relief was within 2 days."

Emilyr
Spring Hill
"Sunshine Global 400mg with Cavinol I have been terribly sick since 2014, the start of chemotherapy.
The only break I had was with two surgeries. My first time taking the CBD oil was prior to my last chemo
taken two weeks ago. It was four days prior. Two days after chemo I called the family and told them I
didn't even believe I had chemotherapy. This oil is magic. Thank you. Thank you. Bless you all!"

Carol Shaheen
Spring Hill
Previous
Next
The following is a small sampling of the products you requested for us to sell in our store.
For more information go to the 'Products Page' or click on your favorite product shown in the images below.
*New Products